There is no evidence that the Celts of Ireland struck coins in our period. It seems more likely that their portable wealth was in the form of ornaments for personal adornment (torcs, arm-bands, rings, necklaces, cloak pins, etc.). The first evidence for native coinage in Ireland dates to the coming of the Vikings sometime after 950AD. However, the Celts of the continent did strike coins which appear to have been made on the model of Macedonian coinage like the gold stater of Philip II of Macedonia.
Clann Law
authorizes
the production of the silver coin and states its value.
The stamping of official Clann coinage is now almost a mandated practice for our group. The coins have value since you must buy them from the Clann, or receive them as compensation in lawsuits. They are used as entry fees to certain games at events, and they are accepted as payment for services rendered at some of our neighboring groups. They are perfect for gambling with, and are coveted by all.
This page will serve as an online library page to catalog the various Clann coin stampings over the years. The smiths in our group are urged to stretch their memory back far enough to help improve this page by providing photos and comments. The goal is to take photographs of the various coins the Clann has produced over the years (at least the ones we have been lucky enough not to lose gambling) and attempt to place them in time and describe them a bit. Some of the early coins are getting quite rare and it's possible that we might end up creating a system of relative value for the various types as we identify them and perhaps realize their relative scarcity.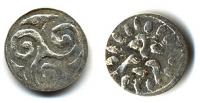 There are no specific Clann laws relating to how the Clann coin should look. It is my hope that cataloging them will create incentive to obtain new dies every so many years, perhaps to stamp as commemoratives for certain events, maybe in different metals and perhaps upon the election of a new Chieftan or another important event. A member with claim to an Aristocratic position might decide to sponsor the creation of a new die to commemorate his own position in society and aggrandize himself.
I have added a Norseland Mark in the book because it is a currency that we recognize.
What thinks the Clann on these suggestions?